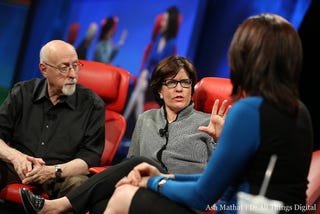 Last month, Reuters asked if Rupert Murdoch could hold on to Kara Swisher, the "best journalist (so far) of the new millennium." The answer is officially no, according to Fortune's Dan Primack, who first reported that AllThingsD had tapped the investment bank Code Advisors "to find outside investors" for a deal "that could exceed $25 million" (the price AOL paid for TechCrunch in 2010.)
We heard that AllThingsD's co-editors Swisher and Walt Mossberg are close to cutting a deal with one of three suitors. Earlier today, Primack reported:
AllThingsD remains in talks with two prospective investors, one of which is Comcast (CMSCA) subsidiary NBCUniversal. Other names that have been floated include Bloomberg, Condé Nast, Cox Enterprises and The Washington Post Company (WPO).
To clarify any misconceptions: the AllThingsD brand itself will be retained by News Corp, which was the plan all along. News Corp also owns AllThingsD's website and content. In confirming the split, Wall Street Journal editor Gerry Baker said the paper plans to expand its tech conferences internationally.
But without Swisher and her stellar scoop machine, it's hardly a win for ole Rupert.
Update: TechCrunch has the full statement from Baker, editor-in-chief of Dow Jones and managing editor of the Wall Street Journal. Baker says a global expansion of tech coverage "will include adding 20 reviewers, bloggers, visual journalists, editors, and reporters covering digital."
TechCrunch hears that AOL (TechCrunch's owner) is also one of the bidders for Swisher & Co.
To contact the author of this post, please email nitasha@gawker.com.
[Image via AllThingsD]