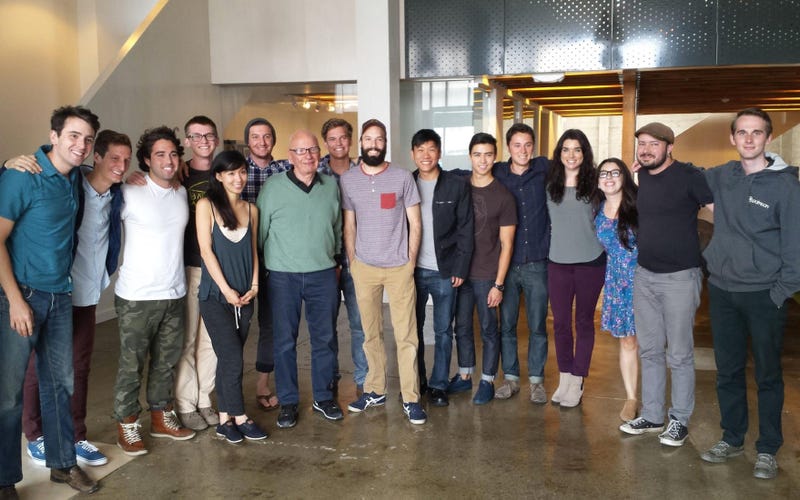 The Republican party isn't the only right-wing fearmonger looking to make inroads in Silicon Valley. A tipster tells Valleywag that News Corp's chairman Rupert Murdoch has spent the last two days poking around startups in San Francisco.
Allegedly, one of the first offices he visited was Patreon's, a company with $17.1 million in funding to help artists receive recurring donations from their fans. Patreon's founder, Sam Yam, posted the above photo of his staff refusing to embrace Murdoch, commenting on Facebook, "Ruppie (Rupert Murdoch) chillin' at the Patreon offices today #nbd#bff4evar."
Unfortunately for Patreon, their new BFF soon headed to Stripe, where Ruppie was so dumbstruck by John and Patrick Collison's payment startup, he just had to tweet about the company:
Update: A spokesperson for Patreon tells Valleywag that Murdoch's swing through San Francisco was setup by Ron Conway's investment firm, SV Angel, so the Fox News moneyman could "tour startups in SF that are doing new and interesting things."
We spent a half hour explaining what Patreon is doing and telling the story of the founding of the company. There are no plans for partnerships or working together - it sounded like [Murdoch] was simply interested in learning about emerging business models.
And here are a few tweets from Murdoch's Chief of Staff:
Know more about Murdoch's waddle around San Francisco? Contact the author of this post at kevin@valleywag.com.
Photo: Sam Yam