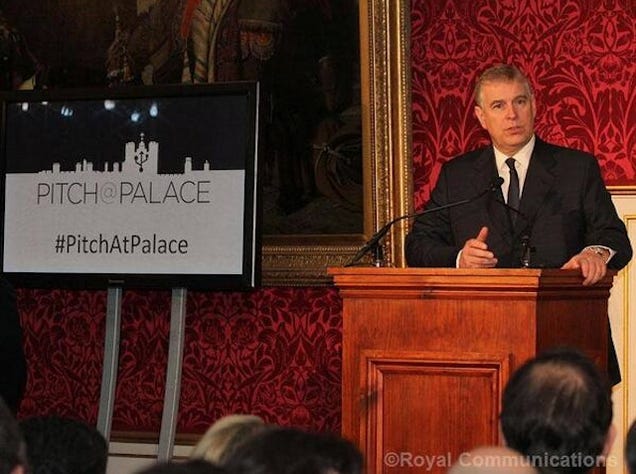 You know the balance of power has tipped when British royalty wants to become the next Ashton Kutcher. Yesterday Prince Andrew, the Duke of York, invited the entire London tech scene and their mums to St. James Palace to listen to startup pitches.
According to the event's website: "British prosperity, in all its forms, is central to The Duke of York's work" and as the fairy tale goes "Entrepreneurs are our wealth creators."
Pitch @ Palace is in response to the message that The Duke of York has been receiving: more is needed to support entrepreneurs at the early stage. While His Royal Highness cannot fill that gap single- handed, he hopes that by drawing on his experiences and convening Pitch @ Palace he can raise the profile of new businesses, amplify the excellent work being done to support early-stage entrepreneurship, and, most importantly, act as an accelerant for entrepreneurs.
With all his business acumen, the Duke decided the best way to amplify and accelerate early stage startups would be to hand out meaningless awards (an app that lets you collect loyalty points won "Most Disruptive") and take the "first Royal selfie." Not so differently from Silicon Valley, really, prompting Wired's David Rowan to stretch his editorial muscles to come up with "Silicon Throne."
The only thing that could get this crowd more amped by this pomp and circumstance is if you told them the next royal baby was a robot.
The Duke of York was in the press earlier this week for his ties to the Kazakh oligarchy, including selling a country house to Kazakh billionaire Timur Kulibaev, and being photographed repeatedly with Kulibaev's mistress. Shadowy billionaires, polyamory, selling a house for $6 million above asking price—has his royal highness every been to San Francisco? Seems like he would fit right in.
[Image via @Spacioustweet]