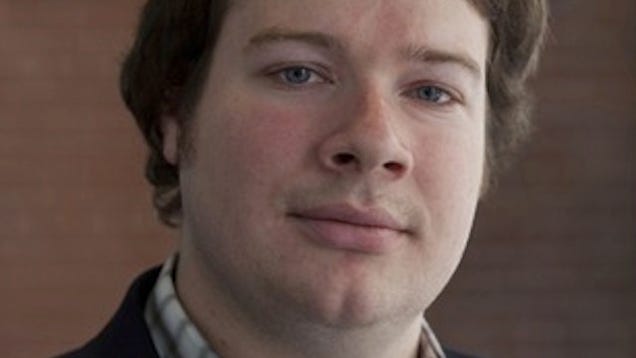 Something beautiful happened yesterday: an otherwise fractious internet was drawn together in harmony, united in mutual contempt for a new website called Bustle. Bustle is the spawn of asinine media mastermind Bryan Goldberg—creator of the dudebro sports-spam boiler room Bleacher Report—who reached new depths explaining his amazing, unprecedented brainstorm: a website... for girls!
But this is an actual project, People have invested millions in it. Who?
Goldberg's press release was delivered, seemingly without editing or the slightest bit of context, on PandoDaily, which specializes in PR, but usually not so literally. He leads with his good news:
I've raised $6.5 million to build and grow my new company: Bustle.com
From there, every sentence is a blunder, an insult, or both:
During the last decade, many popular new media properties have launched, most aiming to attract men, like Politico, Bleacher Report, TechCrunch, Business Insider, Mashable, Grantland, TheVerge, Break, College Humor, IGN, Thrillist, and Gawker. (Audience Demographic data via Quantcast)
The notion that these sites are all "for men" is ... peculiar. As is, of course, his suggestion that there is a big empty void where smart, successful websites that cater to women. There are many, many titles already doing what he imagines, and doing it without a boor at the helm. Is it possible that Bryan Goldberg, on his quest to bring Internet to women like beads to the savages, has not read any of them? It does seem possible.
Yet and still, here's the $6.5 million idea:
Isn't it time for a women's publication that puts world news and politics alongside beauty tips?

Yes, we believe that a partner-track attorney can be passionate about world affairs and celebrity gossip. On the same day. During the same coffee break. And there is nothing wrong with that. Welcome to the year 2013.
Women really will be able to have it all. Not content with that amount of patronizing, he continues:
My job, as CEO, is to hire the right people. My job is to know a lot of engineers, editors, venture capitalists, and salespeople — and to bring them together. Knowing the difference between mascara, concealer, and eye-liner is not my job.

Apparently "hiring the right people" entails paying writers $100 per day, according to this now-deleted job listing.
Bustle was immediately and universally panned, a sort of venture-backed Gigli (Jennifer Lopez reference inserted for Valleywag's lady readers). This is what happens when you demean roughly half the world's population in blog post headlined with the number of millions you were just gifted:
That a man whose livelihood has been making one of the scummiest sports websites out there now has an even worse idea isn't that surprising. Given Goldberg's prior success at jamming garbage content into Google prominence, it might even become a success.
But it's not just Goldberg orbiting alone in some patriarchal sleaze nebula—he was given six and a half million dollars to make this bad idea a real, bad thing, startling even in an industry that has a high capacity for holding its nose in the presence of awful ideas.
So let's meet five large, mainstream sources Goldberg credits with backing, and sharing in, his $6.5 million dream: Google Ventures, the company's investment arm, which has backed dozens of apps and sites—some that you probably use. Yes, Google is backing Bustle. Google Ventures has not replied to my email as of yet, but you can try them here.
Rothernberg Ventures, headed by 27-year-old Mike Rothenberg, also chipped in a large amount. Rothenberg's best-known venture so far is Chubbies, a company that sells fratty shorts. I'm still waiting to hear back from Mike, but you can email him your thoughts here.
Time Warner Investments, which backs startups on behalf of the media conglomerate, is also in on the fun. A call to Time Warner Investments has not been returned, but you can try them yourself at 212-484-7819.
The fourth major investor in Bustle is Facebook alum Chamath Palihapitiya's Social + Capital Partnership, which manages hundreds of millions of dollars, and, according to their website, seeks to "create value and change on a global scale." They haven't returned my email yet, but can be reached here.
500 Startups, run by Dave "Lying Bitch" McClure, had only this to say about his firm's investment:
I think it's too late for that.
To contact the author of this post, write to biddle@gawker.com
Update: Mike Rothenberg (non) responds:
Hi Sam - no comment this time, but please feel free to keep me in mind for future pieces!

Best,

Mike
OK.
Update 2: A Valleywag reader points out that Dave Nemetz, a Bleacher Report investor, is on board with this wisdom wreck, too: